Peter Atkins
Melbourne-based artist Peter Atkins travels to Israel in December 2005 as a joint initiative between Sherman Galleries, Sydney and AICE.
Peter Atkins is an important representative of Australian art in the international arena. He was sole Australian representative and gold medal recipient at the VIII Triennale–India in 1994; he has exhibited in Australia, France, Taiwan, Korea, Japan, Italy and Spain; he was awarded an Australia Council Studio residency in Barcelona August–November 1998; in 1999 his work was featured in 'Five Continents and One City', in Mexico City Gallery, curated by Gao Minglu, as well as at ARCO in Madrid. Peter's work is, above all else, a veneration of the human spirit manifested in the visual. He is an artist who maintains a strong interest in the decorative and votive qualities of everyday objects, which he transforms in his larger work into celebratory images. Much of his smaller work is in the form of visual diary: objects and images found during his many and varied wanderings throughout the world, reconfigured as works of personal and cultural expression. Peter's Spanish Journal, 1998, was purchased by the Art Gallery of New South Wales, while Journal 1999 (Sydney, Auckland, Melbourne, Mexico City), 2000, is held in the collection of the National Gallery of Australia, Canberra. A Sherman Galleries exhibition in May 2006 will be the direct result of Peter's wanderings in Israel; an exhibition that falls in the 20th anniversary year of both the founding of Sherman Galleries and Peter's last visit to Israel, where he was a volunteer on a Kibbutz in the north of the State. Selected solo and group exhibitions include:
2005
'Down My Street', Tolarno Galleries, Melbourne
'Paintings 2002–2005', Bett Gallery, Hobart
'The Connected World', Greenaway Gallery, Adelaide
2004
'the world around me', Sherman Galleries, Sydney
2003
Peter Atkins 1990–2003, survey exhibition, Lake Macquarie City Art Gallery, NSW; Latrobe Regional Gallery, Morwell, VIC
'Paperform', Tolarno Galleries, Melbourne
'MCA Unpacked II', Museum of Contemporary Art, Sydney
2002
'lo tech', Sherman Galleries, Sydney
2000
'Accumulation', Sherman Galleries, Sydney
1999
'Five Continents and One City', Mexico City Gallery, Mexico
ARCO, Madrid, Spain
1998
Sixth Australian Contemporary Art Fair, Melbourne
1996–97
'Systems End: Contemporary Art in Australia', Oxy Gallery, Osaka; Hakone Open Air Museum, Tokyo; Dong Ah Gallery, Seoul; Kaohsiung Museum of Fine Art, Taiwan
1994
VIII Triennale–India
1990
'The Moët and Chandon Touring Exhibitions', Australian state and national gallery tour
Peter's schedule includes Tel Aviv, Jerusalem, Nazareth, Tiberias, Akko, the Dead Sea and the Roman city of Caesarea (as well as a personal side trip to Cairo and Egypt).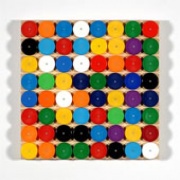 Courtesy the artist and Sherman Galleries, Sydney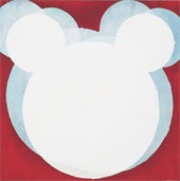 Courtesy the artist and Sherman Galleries, Sydney