Oz Zehavi: Israel's latest screen star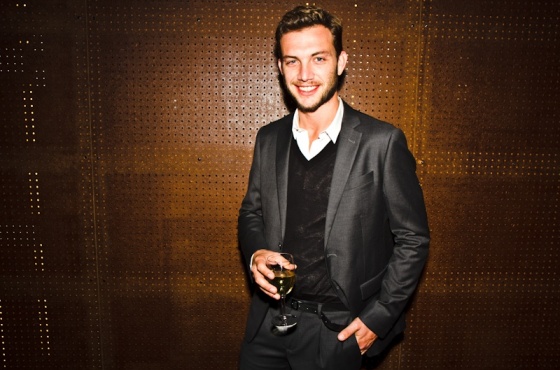 Photo: Gavriel Maynard
He's been dubbed Israel's latest screen sensation, and now Oz Zehavi is in Australia for the annual AICE Israeli Film Festival, which features his latest movie, 'Infiltration'.
Q. Let's talk about 'Infiltration'. What's it about? What's your role?
A. It's set in 1956 in an army base and it's about the basic training of a young platoon which is made of unfit young boys from all over the world because it's the early years of Israel so people from Iraq and Romania and Poland and all over the world [are there] and I'm playing the role of a sabra, born and raised in Israel. His lifelong dream is to be a paratrooper like his father but he has some mental issues which he's not aware of so he blindly pursues his dream against all odds. His commander is sort of his nemesis and he gives him help.
Q. Do you think today that people in Israel accept each other more?
A. People accept each other more than what they used to accept in the '50s and '60s; In the '60s there was a movement called the Black Panthers, their background was Moroccan and they felt the government marginalised them. Actually that was true, and then the civil rights movement made the ground better. This is the country, a country of Jews from all over the world, very versatile. It's the reality in Israel. The people in Israel appreciate the beauty in this ingathering of the exiles.
Q. Do you think the army has helped insofar as it is the great leveler of society?
A. Yes, what makes the Israeli people unite is the army because no matter where you come from everybody becomes brothers in the army. If you have one Israeli from Ethiopian background and one from European background and both serve in the Golani brigade they are brothers and in 10 years' time they'll still be brothers.
Q. How big a deal is it that the film industry has been undergoing a major renaissance in the last few years?
A. It's been developing dramatically and we make beautiful films and we have support; the Israeli Film Foundation supports all of the movies and it gives around 70% of the budget from the government and the government appreciates the importance of the movies for the way people see Israel.
Q. Do you think movies are an important part of hasbara?
A. Yes, for sure. Because what you see in the news all over the world is not real life. In Google Earth you press it and then you can see it from street. [In the movies] you can see it through the eyes of the Israelis, it's not black and white, it's more complicated than that it's a whole rainbow of feelings. For Israelis it's also complicated, there are so many different views. I think a lot of the issues are universal.
Q. You spent an hour in a cell recently to mark Gilad Shalit's fifth anniversary. What was that like?
A. I did it as an act of identification and in the hope that it would bring a change. An hour in a cell, with cameras and air conditioning, wasn't so hard. It was a good stage to say my opinions and I prepared myself for this hour. Unfortunately the change [in Gilad's status] didn't happen so far, I hope it will.
Q. Have you been supporting the tent revolution in Tel Aviv?
A. I live in Tel Aviv and so I'm part of it and I support it a lot. I went to tent area in Rothschild Boulevard in Tel Aviv dozens of times so I support it but not in the media. I'm pro the revolution; the prices are mad in Israel. The government is listening but I can also understand them; it's not so easy to make so many changes in one day. They are listening but the people are so emotional about this, they're so into it, so I know it will not stop until there will be results.
Q. When you go abroad do you feel like an ambassador for Israel?
A. Yes, I feel like I'm an ambassador for Israel as a citizen, always. Even in Israel when I meet people from abroad I become the nicest man alive! I think because of Israel's reality every Israeli citizen must have this role of an ambassador.
Q. Here in Australia, although the government and opposition are supportive of Israel there's growing support for the boycott, which has become focused on the Max Brenner chocolate shops...
A. I don't think it's so bad that there are pro-Palestinians. I'm pro-Israeli and also pro-Palestinian. I want peace and prosperity for both of the people. I don't think pro-Israel or pro-Palestinian is a bad word even as an Israeli. I think some people don't know the reality and I'm afraid they are extreme because they don't know all the facts.
Q. When did you know you'd become an actor?
A. I was an extravagant kid all through my childhood years. I always used something as a stage and did performances and shows and make people laugh and dressed up. I was the class clown and in the theatre group. In high school I would take the leading roles. I studied film in high school and we did everything: we directed it, filmed it, and acted in it, we did everything. After the army it was really natural for me to go to acting school. I knew it was my route after the army.
Q. Who are your heroes in film?
A. I look up to all the method actors, they get into the character and live as the character for one year. One of them is Al Pacino, and Robert de Niro of course and Marlon Brandon and James Dean. They're all method actors; I also loved Heath Ledger. There are lots of actors but I think Brandon and Pacino influenced me a lot.
Q. Which Israeli films did you love most over the last few years?
A. I loved 'Ajami', and 'Late Wedding' and also Avi Nesher's movie, 'Turn left At The End Of The World'.
Q. Do you have plans to move to Hollywood or do you plan to stay in Israel?
A. I have plans of working outside Israel but I'm not sure if it's going to be in Hollywood or Europe. I have this dream, but I'm tied up for a year and a half and then I'll go for a couple of months.
Q. What are you working on now?
A. I'm doing a play in the national theatre in Israel. In Hebrew it's called "If There Is A Heaven?" based on a novel by Ron Leshem and also it was a film by Joseph Cedar [called 'Beaufort'].
Q. How are you coping with your new celebrity status in Israel?
A. It was a big shock for me. Once I was famous I lost my anonymity but I live my life very privately. I'm a big family man and I give a lot of attention to my family and close friends and that balances me. Israel is not Hollywood with the glamour; the industry is about the arts and not about the money. It's good, it makes you focused on the job and makes the work harder because of the lower budgets and makes you focused on real stories, real people and real drama and I think that's why Israel made big achievements in the last few years.
Q. You play drums, guitar. Was there ever a time you thought you'd be a musician?
A. Yeah, I'm still thinking about it.
Q. What are your first impressions of Australia?
A. It's great, Sydney is a beautiful city. So far I'm very impressed. I'm going to Circular Quay and then I'll take a boat to Manly. I'll be in Sydney for seven days and then a few days in Melbourne.
Q. Anything to add?
A. Thank you [AICE] for inviting me. It's a great honour and it's a great privilege. I wanted to come to Australia so it was a big opportunity for me to come and I appreciate it a lot.
Oz Zehavi is a guest of the annual AICE Israeli Film Festival and will make appearances in Sydney and Melbourne.