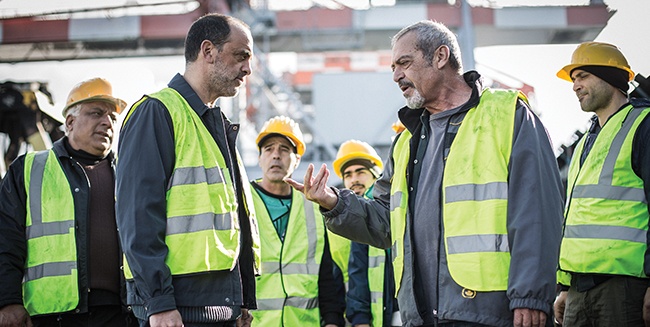 Director: Erez Tadmor
Cast: Yoram Hattab, Shmil ben Ari, Ana Dubrovisky, Liron ben Shlush, Dalia Begger, Sharon Alexander, Eyal Rozales
After 30 years at sea, veteran seaman, Aharon Avitan, returns to shore duties in time for the birth of his first grandchild. He looks forward to living a quiet life surrounded by family and friends.
Appointed as Head of the Marine Department at the port of Ashdod in southern Israel, Aharon soon clashes with Azulay the long time union organiser with a firm grip on the port's operations. Against a background of looming privatisation the clash soon develops into full blooded warfare as the workers take to the barricades to defend long held practices (often corrupt) from a man eager to reform the workplace.
Set mainly in the docks the production mixes the drama of industrial warfare, a love story and a parable about the reality of economic rationalisation. The production was nominated for three Israeli Academy awards.
Viewer advice: not recommended for children under the age of 15 without parental guidance.