Forty Thousand Horsemen
Action Drama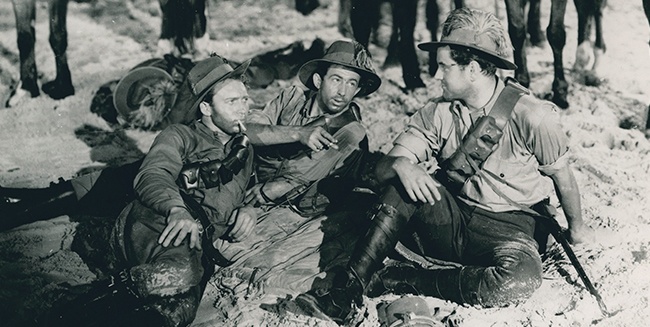 Director: Charles Chauvel
Cast: Chips Rafferty, Grant Taylor, Betty Bryant
Rivoli Cinemas Melbourne - Saturday 9 September 2017, 3:00pm - Intro and Q and A with Ric Carlsson Chauvel
Ritz Cinema Sydney - Sunday 10 September 2017, 1:30pm - Intro and Q and A with Ric Carlsson Chauvel
Special introduction at selected screenings by Ric Carlsson – Chauvel, great nephew of Harry Chauvel who led the cavalry charge in 1917, and grandson of Elsa and Charles Chauvel.
On the occasion of the 100th anniversary of the liberation of Beersheba (October 1917) AICE is delighted to offer an opportunity to view this historic event on the big screen.
Directed by Charles Chauvel this 1940s film tells the story of the Australian Light Horse Brigade which operated in the desert during the Sinai and Palestine campaigns in World War 1.
It follows the adventures of three mischievous heroes, one of them played by legendary actor Chips Rafferty in his first big screen role. When German backed forces attack British outposts in the Sinai the soldiers are sent off to fight. The film culminates in one final charge – a deadly assault across open ground to Beersheba, reputedly enacting "the last successful cavalry charge in history"
The film is party a call to arms and part propaganda tool to aid in recruitment and lift the pride of Australians during World War 1. It was one of the most successful movies of the day.