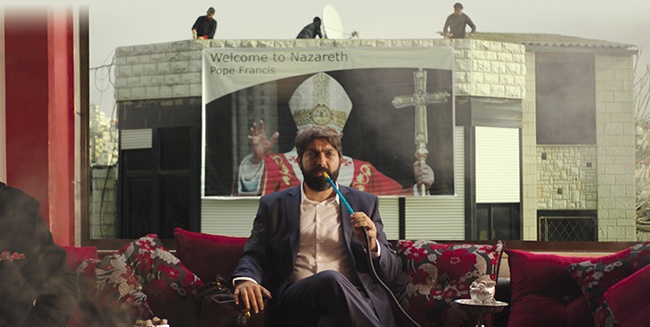 Director: Shady Srour
Producer: Itai Tamir
Cast: Shady Srour, Laetitia Eido, Shmulik Calderon
In this witty comedy, a Nazareth businessman must negotiate with the holy city's rulers, gangsters and his own family, when he tries one last get rich scheme – selling "holy air".
Adam (writer/director Shady Srour) is a Christian Arab living in Nazareth. His wife Lamia is a strong, beautiful and progressive Arab woman who runs a foundation for women's rights.
With a string of failed business ideas behind him and in urgent need of cash, Adam comes up one last brilliant idea – selling Holy Air. Taking to the streets and selling to tourists the very air that the Virgin Mary breathed is a sure fire winner. But a venture like this requires the cooperation of the three powerful cultures ruling Nazareth – the Jewish politicians, the Muslim mafia boss and Catholic officials.
In a politically unstable world where religion is just another merchandise can the Holy Air be Adam's salvation or is it just an illusion?
Viewer advice: not recommended for children under the age of 15 without parental guidance.